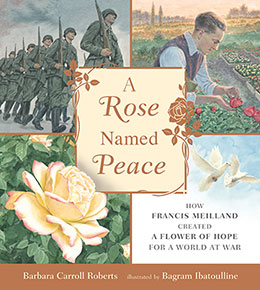 Fran­cis Meil­land always want­ed to grow his own ros­es, like his father and grand­fa­thers before him. More than that, he want­ed to cre­ate a brand-new rose, the most beau­ti­ful rose the world had ever seen. Year after year — through sud­den frosts and insect infes­ta­tions and fail­ure after fail­ure — Fran­cis tried to craft a new hybrid. And then, just as he final­ly began to find suc­cess, World War II explod­ed across Europe.
When the Ger­man army stormed into France, Fran­cis and his fam­i­ly had to sac­ri­fice their rose beds for veg­etable gar­dens. It seemed that Francis's efforts to cre­ate a new rose would be lost forever.
But at war's end, the sto­ry of the Peace Rose was just beginning.
Beau­ti­ful­ly illus­trat­ed by cel­e­brat­ed illus­tra­tor Bagram Iba­toulline, this biog­ra­phy of the Peace Rose and its cre­ator is an ode to liv­ing a dream from begin­ning to end, through sun and through storm.
You Never Know Where a Story Will Come From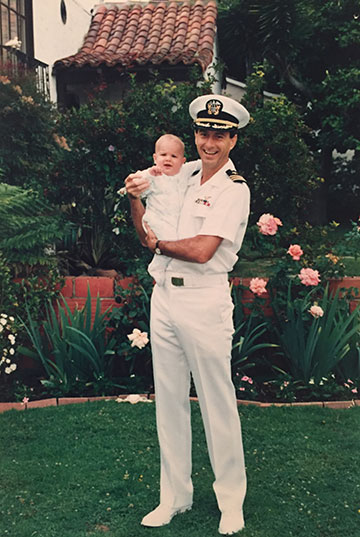 This is my hus­band hold­ing our son (thir­ty years ago) stand­ing in front of the Peace ros­es bloom­ing in our yard in Cal­i­for­nia. We had no idea what they were — oth­er than beau­ti­ful. But our elder­ly neigh­bor and gar­den­er-extra­or­di­naire, Lau­ra Hoff­man, knew exact­ly what they were.
"These are Peace ros­es," she told me, while also show­ing me — a novice gar­den­er at the time — how to care for them. "They were flown out of France at the begin­ning of the World War II."
Laura's words — and the mys­tery they held — stayed with me. And all these years lat­er, I dis­cov­ered the rest of the story.
2022 Junior Library Guild Gold Stan­dard selection
"A stun­ning and provoca­tive addi­tion to biog­ra­phy col­lec­tions for ele­men­tary school-age chil­dren." (School Library Jour­nal, starred review, full review)
"Poignant sto­ry­telling that absolute­ly blooms." (Kirkus Reviews, full review, )
"I loved this sto­ry of resilience and hope dur­ing a time of heart­break­ing dark­ness." (Book Riot)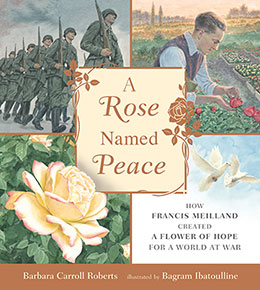 illus­trat­ed by Bagram Ibatoulline
Can­dlewick Press, May 2022
ISBN: 978–1‑5362–0843‑6
Non­fic­tion Pic­ture Book
48 pages
Age Range: 6 and up